Our Domestic Water System
Turn on your faucet and clean, clear, healthful water runs out 24/7, 365 days a year. That is what the Washington State Department of Health, Office of Drinking Water requires of us, the Vista Vu Water Users Association, a Group A community water system that provides drinking water to you, its members.
Some History
Our Water Right
Our groundwater withdrawal certificate issued on March 9th, 1982 allows us to pump 50 acre feet of water per year at a rate of up to 180 gallons per minute (gpm) from our community well located near our irrigation pump-house above the Okanogan River. At the time of issuance, the certificate stipulated that only 25 homes could be served and, furthermore, spelled out where those lots were located. This limitation prevented the Association from serving other future subdivided lots even though our Bylaws and Covenants allowed up to 32 homes in Vista Vue.
A Supreme Court Break
In 2010 a State Supreme Court decision, Lummi Nation v. Washington gave non-municipal community water systems like ours the same rights to distribute water as municipal systems enjoyed and protection against relinquishment of our water right through non-use. With final approval on March 1st by Dept of Health of our recent system capacity expansion and arsenic removal system installation and completion of an update to our Small Water System Management Plan, we are allowed to serve up to 32 dwellings - the original community "build-out" goal of Gary Mundinger, the founder of Vista Vue subdivision.
Download a copy of the current Water Facilities Inventory here.
2011 System Upgrade
A 10,000 gallon underground reservoir and pump-house located in the pear orchard served the community's water needs for over thirty years. However, subdivision activity in recent years increased demand for new connections, outstripping our underground storage capacity. (The capacity and characteristics of our domestic system were evaluated in an engineering report completed ca. 1980.)

In 2008 the Association was red-flagged by Dept of Health for exceeding arsenic limits that had been lowered by the federal Environmental Protection Agency from 50 parts per billion (ppb) to 10 ppb. (Our levels were approximately 17 ppb.) We signed a Bilateral Compliance Agreement (BCA) committing us to remedy the arsenic violations.

With the help of the Office of Drinking Water District Engineer we were able to secure a 1%, 20-year Drinking Water State Revolving Fund (DWSRF) loan that would cover most of the costs to achieve compliance with lowered arsenic limits, double our storage capacity, add meters at every household connection, and replace aging pumps and motors. A construction contract was signed in Spring 2011 and the work completed before first frost in the Fall. Total cost was $161,680 of which $126,829 was covered by our DWSRF loan; the remainder - $34,850 - was paid from retained earnings and our Capital Improvement Fund.
System Operation
A 7.5 HP well-pump controlled by a Variable Frequency Drive (VFD) pushes water up the hill from the well to fill the two 10,000 gallon above-ground polyethylene storage tanks located adjacent to the domestic pump-house in the pear orchard off Mundinger Lane. The well-water passes through an arsenic adsorption unit - two large fiberglass tanks containing adsorption media - before entering the storage tanks. Treated water is drawn from the tanks and pressurized to 65 psi by a pair of turbine booster pumps. From the pump-house the water enters the mainline distribution system serving 23 active household connections.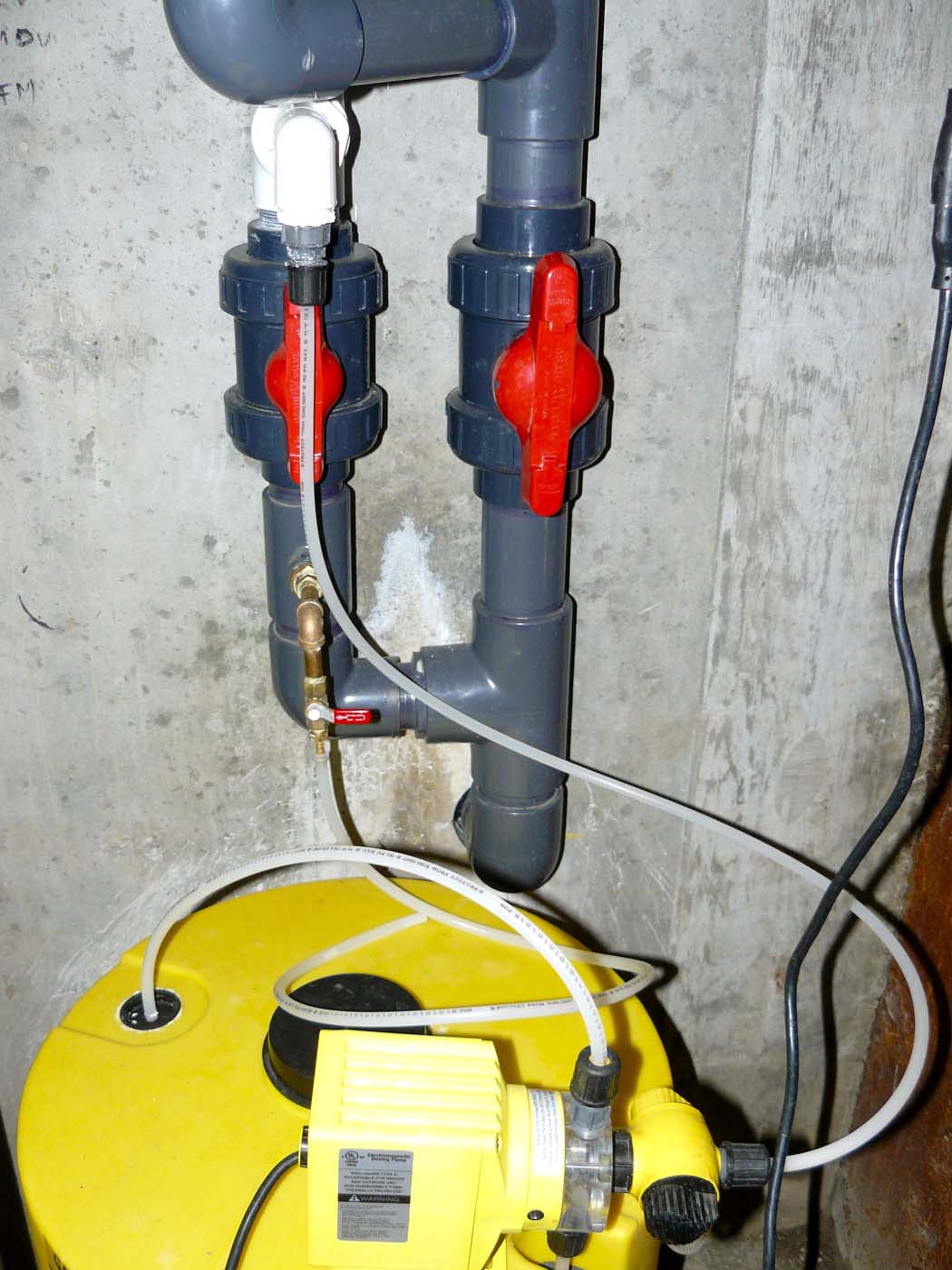 Starting in the Fall of 2012 a chlorination and blending system came on-line. Chlorine is injected into the incoming well water to improve the capacity of the arsenic adsorption media to remove arsenic. Most of the chlorine is consumed in a chemical process that changes one form of arsenic into another form which is more easily adsorbed on to the media. A small residual amount of chlorine (less than 0.5 parts per million) remains in the water and provides some protection against bacterial contamination.

A bypass line allows us to blend raw well water with treated water in order to extend the life of the media while maintaining arsenic levels below the 10 parts per billion (ppb) EPA drinking water standard.

Once every thirty days at 2:00 a.m. the arsenic adsorption unit automatically back-flushes accumulated sediments into the de-commissioned underground storage tank abutting the lower level of the pump-house. At roughly five to seven year intervals the media in the arsenic units must be replaced to maintain effective removal of arsenic. The first media change was performed by our system operator assisted by volunteeers in August 2019, eight years after the arsenic remediation installation was commissioned.
Monitoring Water Quality
Alpine Environmental takes treated water samples monthly and untreated water samples every three years for lab testing to monitor arsenic levels. In addition, Vista Vu has a test kit it can use to check arsenic levels well before official lab test results become available. Adjustments are then made to the blending bypass to maintain less than 10 ppb of arsenic in the blended water you drink.

Coliform test samples are taken from taps at several residences around the subdivision. The presence of coliform bacteria is an indicator that other pathogens may be present in the domestic water supply and requires shock-chlorination of the entire distribution system and notification of the Association membership.

An annual Consumer Confidence Report is sent to the Vista Vu Water Users Association membership and may be downloaded here.
Metering Use
State law required that we install a source meter and a meter at each household connection by January, 2017. As a condition for approving our DWSRF loan, we included meters in our 2011 system upgrade. We read the meters monthly for billing purposes, leak detection and water conservation monitoring as part of our required Water Use Efficiency Report.
Daily Inspections
To detect major leaks, spills, and electrical or mechanical problems, we inspect the domestic pump house daily using volunteers in the community. A simple checklist takes about five minutes to complete, all items performed from the upper level of the pump house.
2021 Daily Inspections Roster
| | |
| --- | --- |
| Dates | Name |
| 1/1/21 | Mike Stenberg |
| 1/24/21 | Gary Carlton |
| 2/07/21 | Gary Carlton |
| 2/21/21 | Jody Dennis |
| 3/07/21 | Jim Truitt |
| 3/21/21 | Jody Dennis |
| 4/4/21 | Doug Marsh |
| 4/18/21 | Ken Vander Stoep |
| 5/2/21 | Rick Clark |
| 5/16/21 | Tracy Oestreich |
| 5/30/21 | Empty - TBD |
| 6/13/21 | George Dunckel |
| 6/27/21 | Mike and Chris Nelson |
| 7/11/21 | Mike and Chris Nelson |
| 7/25/21 | Cindy Rose |
| 8/08/21 | Cindy Rose |
| 8/22/21 | Jim Truitt |
| 9/5/21 | Doug Marsh |
| 9/19/21 | Mike Mullen |
| 10/3/21 | Mike Mullen |
| 10/17/21 | Ron Mackie |
| 10/31/21 | Drew Carlton |
| 11/14/21 | Drew Carlton |
| 11/28/21 | Tracy Oestreich |
| 12/12/21 | Rick Clark |
| 12/26/21 | Rick Clark |
For further information contact: Stu Skidmore, President; Mike Stenberg, Vice President;
Gary Carlton, Secretary; Tracy Oestreich, Trustee; or, Udi Medrano

We welcome your comments on the website.