Spring 2013 Newsletter
Welcome to Vista Vu Water Users Association's newsletter. Our purpose is to keep you informed about important activities and projects that your Board of Trustees is undertaking on your behalf.
High Okanogan River Levels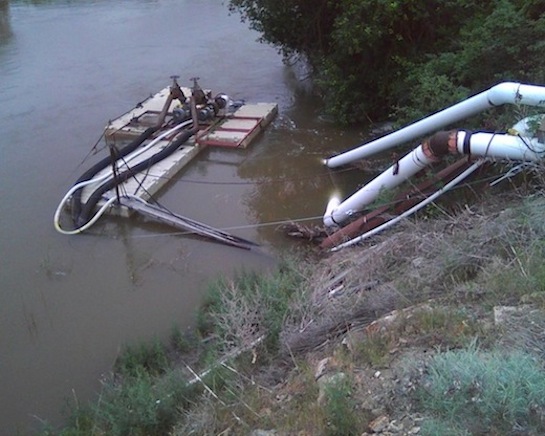 Rapid snow-melt has pushed the river into flood territory: over 17 feet at the gage near Tonasket. (Flood stage is 15'.) Your Board members will be monitoring the raft at least twice a day while the flood threat lasts. We have installed an extra safety cable and tied the hoses to secure points on the culvert. Our biggest concern is the stability of the riverbank and a tree immediately upstream of the raft. These protect the raft from high currents and floating logs and other debris floated free by the flood.
Welcome to a new owner!
The Howards and Elsbrees will have a new neighbor. Vic and Carol Teshera bought one of Jack Crane's lots and have started fencing. They don't plan to build and move on to the property right away though.
Domestic System
Since we began reading meters in November 2012 we have seen a 36% drop in water use and power consumption. Congratulations on achieving these savings!
The downside of this conservation is a reduction in revenues from the tiered rates which is partially offset by the extended arsenic media life, reduced chlorine consumption and power savings.


Irrigation System
We are leasing some of our water in two ways: Internally to a Vista Vu owner and externally to Aston Estates. We received a legal opinion affirming that we had the necessary authority to move water around our place of use, and that a lease involving two owners protected the lessor's water right from relinquishment due to non-use. There is no requirement that Department of Ecology review or approve an internal lease; we can do it all ourselves.
Maintaining our Community Attractiveness
The visual appearance of our properties can affect us in many ways, not the least of which is maintaining our property values. Visual blight - wrecked cars, trash, uncontained garbage - in plain site from public rights-of-way, can repel prospective buyers. With two lots for sale and our Association finances stretched to the breaking point, we need to remove every barrier preventing our community from growing.
What Do our Restrictive Covenants Say?
Our covenants spell out clearly what is required of us as owners:

"All property within the SE 1/4 and all improvements on any such property shall be kept and maintained by the owner thereof in clean, safe, attractive and sightly condition and repair."

And:
"... all garbage and other refuse shall be kept in sanitary containers that are concealed from view and regularly emptied; and all incinerators or other equipment or the storage or disposal of such materials shall be kept in a clean and sanitary condition."

While the Association has no authority to police or enforce the Covenants, we can point out that neighbors have the right to seek legal remedies through Superior Court in cases where they feel owners are not complying with the commonsense requirements cited above.

This Spring might be a good time to look around your property, try to see it through a visitor's eyes and ask, "Is there something I need to do to make my community look better?" Ultimately it's your own pocketbook that is affected by the attractiveness of our community.
Treasurer Succession Planning
I'm 75 years old and in good health, but things can change on a dime. We might downsize and move in two to three years; I could become disabled; I will certainly die someday! Besides, my current term is up in 2015 and, by then, I will have been Secretary/Treasurer for three terms.
So, who'll take on my Vista Vu responsibilities when I step down, or leave Vista Vu? What do I do now that needs to continue? Below I lay out the current workload and responsibilities of the Secretary/Treasurer as well as some extra items I do voluntarily.
Board of Trustees Functions
The Treasurer is one of three Officers of the Water Users Association. With the President, prepare Board and Membership meeting agendas. Prepare and distribute minutes, and monthly, quarterly and year-end financial reports. Prepare and track annual Budgets.
Book-keeeping and financial management
The days when we could handle money fairly informally and keep records "on the back of an envelope" are gone. We have loans that require well-documented, auditable records and multiple dedicated bank accounts. I use QuickBooksTM for billing and keeping track of our finances. It's a fairly complicated program that requires knowledge and attention to detail.
Technical record keeping
While not all are required by agencies that oversee our operations, I maintain Excel spreadsheets and charts that help us stay on top of our of water and power use, and provide the data to comply with annual reporting requirements. These are updated as meters are read and PUD bills are recorded.
Additionally there are spreadsheets I use to calculate the concentration of liquid chlorine injected into our arsenic removal system, chlorine pump settings, and the blending ratios for operating our domestic water system efficiently.
Maintaining and updating these workbooks requires something more than a rudimentary knowledge of and skills in the use of Microsoft Excel.
Vista Vu Website
Our website provides the public anywhere in the world a window into the Vista Vu community, its water systems, and how we are managed. It has also become the primary tool for keeping our owners up to date on Board activities and decisions, providing access to important documents, and passing on news about the community. The website has grown in complexity and the number of pages it contains since I first created it in 2006. Maintaining and updating the website requires knowledge of html code and the software to edit and transfer files to the CommunityNet server that hosts the website.
Looking Ahead
Some of the functions I now perform could be contracted out, for example bookkeeping and billing; but, that would cost money and possibly necessitate yet another increase in rates. There is, quite likely, local talent among our membership to tackle some of these tasks. The huge workload brought on by our recent domestic expansion and arsenic removal system installation is behind us; mostly the Secretary/Treasurer's job has become quite routine. So, please, thoughtfully consider what you could do for your Association and community through service on the Board of Trustees. I can assure you that, along with the inevitable frustrations of an all-volunteer Board, you can derive real satisfaction from this service.

Bob Goodwin
Secretary/Treasurer
Vista Vu Water Users Association
Click here for earlier Newsletters archive

Go to top of page
For further information contact: Stu Skidmore, President; Doug Marsh, Vice President;
Bob Goodwin, Secretary/Treasurer; Jack Crane, Trustee; or, Dean Harrison, Trustee.

We welcome your comments on the website.